बुलेटिन
PESA Act will increase the power of Gram Sabha,says CM Baghel
PESA Act Gram Sabha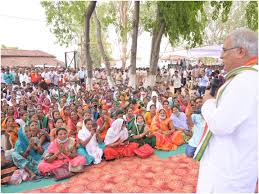 Raipur. Chief Minister Bhupesh Baghel has said that the main objective of the PESA Act is to protect the interests of tribals. With the implementation of this law, as it will increase the power of Gram Sabha also. 50 percent of the members of the Gram Sabha will be from the tribal community. Out of this 50 percent, 25 percent will be women members. There will also be the right to take decisions in the development of the village and to settle mutual disputes. The PESA law was already there, due to not making its rules, tribals were not getting its benefits.
The representatives of All India Gondwana Samaj met Chief Minister Bhupesh Baghel at his residence here today and expressed their gratitude to him for the approval of the PESA law proposal in the Chhattisgarh Tribes Advisory Council. On this occasion, representatives of All India Gondwana Samaj welcomed the Chief Minister by wearing a Gajmala.
expressing gratitude for the approval of the PESA law
Industries Minister Shri Kawasi Lakhma said the tribal community is feeling safe under the leadership of Chief Minister Bhupesh Baghel. In Chhattisgarh, in the last 3 years, maximum decisions have been taken in the interest of tribals. In Chhattisgarh, the forest dwellers are being paid the highest remuneration for tendu leaves collection, in which the tribals are becoming financially prosperous. To preserve the culture of the tribal community, the beautification and renovation of the Devgudhis is being done. Declaring World Tribal Day as a public holiday has increased the prestige of the tribal community. He said that Chhattisgarh is the first state in the country where a large number of forest dwellers have been given forest rights pattas.
The program was attended by Urban Administration Minister Dr. Shivkumar Dahria and Bastar Development Authority's Vice President Shri Sant Kumar Netam and Parliamentary Secretary Shri Shishupal Sori, President of All India Gondwana Samaj Shri Neelkanth Tekam, Secretary of Bharatiya Gondwana Mahasabha Shri Lokendra Thakur, women of Chhattisgarh Gondwana Mahasabha. Office bearers of Gondwana Samaj from different districts including Divisional Head Smt. Uttara Markam were present.